Sunday School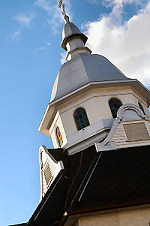 Sunday School classes are held every Sunday at 9:45 – 11:00 am from September to April.
Classes are available for preschool age children and intermediate classes for elementary school aged children. The intermediate classes strive to bring more detailed religious instruction while pre-school classes give an introduction to the Orthodox Faith.
Upon completion of the Sunday School lesson, the children are then welcomed up into the Church for the last half hour of the Divine Liturgy and for those that are younger than 7 to partake in Holy Communion.
Ukrainian School
Ukrainian School is for kids and young adults. This school has a fun and relaxed atmosphere for learning to speak and read Ukrainian.
Classes are held each Sunday from 12:15 to 1:45 pm in the Church classrooms following the Liturgy and the Fellowship Coffee Hour. To enroll  your children or grandchildren please contact the Parish office. Parents are encouraged to bring their children to both Sunday and Ukrainian School.